Time for some Boob Tube Babble!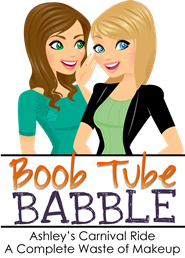 I caught up on a few shows this week but nothing really got me too excited to blog about. Well besides Revenge like usual...
From the previews I really thought Jack was figuring Emily/Amanda out, but I was wrong...just professing some love!
So this post is dedicated to the Fashionista that is Emily VanCamp. I never really notice how STYLISH this woman was until her gorgeous dresses made an appearance on Revenge, now I follow her Red Carpet style and I am in love!
I want her closet
. But for the sake of Boob Tube Babble we'll stick to the shows amazing outfits....
We'll start this post of with a BANG...all time favorite dress.....the red 4th of July one on this week's episode. I need a dress for my bro-in-law wedding this summer and THIS puppy was IT! Until...the husband told me he would not buy an $1800 Jason Wu for me. Ugh, darn hubby. (I knew it was Jason Wu thanks to
Possessionista
visit her for any question!)
Next with curly, messy hair...love it....
And I'm not a huge Missoni lover....but this is perfect...
And stunning gold number....and the dress is even more amazing with some eye candy to go with it :-)
And gorgeous color, great neckline....and side chingnon?? It is talking to me.....
Little pretty yellow number....
And Lastly for today.....
That is all! I'll be back later for Friday Favorites!