Yay for Friday!
I'm leaving on a Jet Plane tonight. Off to Nebraska to see my little sister's Senior Game! I am overly excited and stuffed with coats, gloves and mittens...brrrrr......
So on to Boob Tube Babble!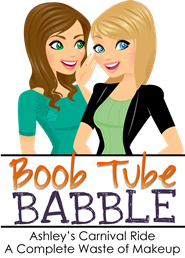 I finally got to catch up on TV a bit this week. Not much, but at least I got to watch Revenge!! And I'm pumped to see that other bloggers and friends have finally caught on to how awesome this show is. If you have not, here is a trailer and go and catch up online or something! I think I even have the hubby interested in catching up...
I also am all caught up on Grey's Anatomy. I have been a lifer with this show. I never gave up on it, even when my sisters and friends did. However, do I think it is going to last? I'm not sure....this just might be the end. BUT I do hope they end it greatly and don't let it wear on. I just wish they would stop messing with Meredith and Derek! Go back to being neuro-power team! But nobody asked my opinion.....
via
And lastly I caught up on 90210...I was not loving this show, especially this season, but then Max came back into Naomi's life and I'm in love again! I think I'm still an episode or two behind though...
Ooops one more. One of my favorite Summer shows is ending this Sunday. Against the Wall on Lifetime. If it is back next summer, I highly recommend it! Love the setting in Chicago and the brother/sister dynamic!
See you later today for Friday Favorites!