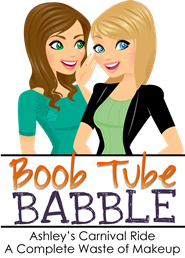 Friday has become a day for blogging! Woo-hoo! My Friday Favorites will be up later today! My friends don't watch TV like I do, so I am so lucky to have found these sweet girls to link up with!
Sadly enough I did not watch much TV this week...weird I know. But I killed Cycling and Thursday night being my Clean out the DVR night, Keith took me out for bday dinner instead since he won't be around today! Oh Pre-game....why don't you center around my life?haha, jk. He more than made up for not being around today, plus I'm dragging him to Footloose Saturday night! So I see it as a three day celebration!
Speaking of Footloose....who is seeing it this weekend? I am SO excited, I'm sure I'll be dancing ALL night...bring on annoying Mia!
So quick overview of shows I'm VERY much looking forward to catching up on on Sunday:
Revenge of course! Who finally has seen it? I'm still in love....
Parenthood - Keith and I really got into this last season, finally watched the premier episode last week (we are WAY behind) and was pretty disappointed, I felt lost. But no worry, talked to my mom on Wednesday and she said it gets REALLY good.
Big Bang Theory - I just laugh my brains out at these guys. I would love to have friends like this in real life!
And I still wish Friday Night Lights was still on TV....sad....
So to leave you with a little Sheldon:
(haha that just made me laugh and I've seen it a million times....)