I mostly like to keep my personal life and my husband's work life separate. But in all reality my world is wrapped up in his. We move because of his job. Our schedules are based on football games, practice, meetings, recruiting weekends and so on. So sometimes it is very hard to keep life separate. Though, I try. And I probably try because it keeps me sane. But today I did want to spend a moment on a football coaching legend.
Today as many of you know Joe Paterno passed away. He is a legend in my husband's profession. We are deeply saddened. No, we did not know Joe, Suzanne or any of the Paterno family. But we feel for them, we pray for them and hope that with eachother they can get through this difficult time.
K and I often joke that I better not have married a Joe Paterno. Meaning I do not want to be living this crazy life until I'm 80. K usually laughs at me and changes the topic, both of us knowing all too well that he would be honored with the opportunity to coach until 85. And knowing I'll follow him anyway.
I get suckered into watching countless hours of ESPN and any football game that is on TV. Usually I read a book. But if I do pay good attention, my mind still wanders. For example, one of my favorite pieces on Joe Paterno, he shared his desire for his football team to wear black shoes. Why? He realized that on film, teams that wore white shoes looked faster. He then had his team wear black shoes, so when other teams were scouting them they appeared slower on film.
Why did I take interest in this? Well Joe, I do the same thing! Only I wear nude heels to make my legs appear longer! Ha! I can appreciate how Coach Paterno used fashion to better his team.
And speaking of fashion, even if you are clueless when it comes to football. You may very well know Joe Paterno as the guy who rolled his pants, wore white socks and football cleats. He didn't like getting his pant legs wet/dirty. To this day I still can't say if I think this was a fabulous trendy or travesty. I just know whenever I see him on TV, I smile at those darn white socks.
via
And lastly, I'd like to say I can't stop thinking about Suzanne today. Again, I've never met Suzanne, I have never met anyone who has known her, but as a coaches wife, even a young one at that, you can feel for her.
This profession is not easy. There is a lot of alone time. You might as well be a single mother. Those darn football games are emotional rollercoasters, sometimes resulting in a wonderful win and other times sulking at a devastating loss. The newspaper, radio, television, and chatrooms can say awful things about your husband. Do they know him? No, but they think they do. They never understand that this is somebody's husband, father, son, uncle or cousin. But as a wife you put up with it, you remain strong because he needs you to be. In most cases you handle it all with class. You are his rock and he may not admit it, but he needs you to get through it all too. I reflect on all of this as I think of Suzanne Paterno today. K and I were able to watch Joe Paterno's 400th win and I remember being in awe. My favorite moment was seeing Suzanne hugging her husband with pure joy. No matter how crazy this profession is, she shows pure pride in her man. And he looks just as happy to have her there.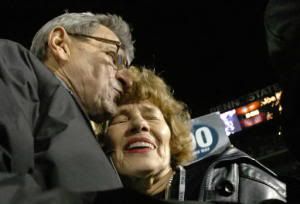 While searching for the above photo, I came across this one. And I think it has become my favorite. I can't say this as a fact, but to an outsider looking at these photos, it appears nothing has changed. Suzanne stood by her man.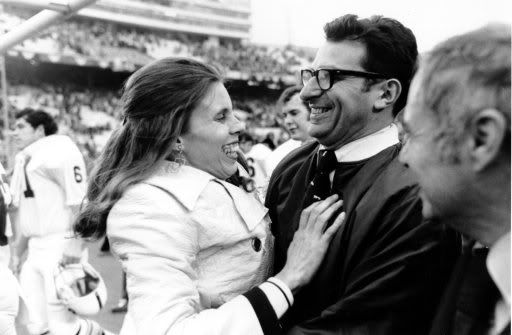 Rest in Peace Coach Paterno.