This post is going to include the Hatch Green Chile Stew I made this weekend. I was introduced to Hatch Green Chiles when I was living in New Mexico. So it had me thinking of New Mexico and how much I loved my time there. I hate to think I've lost touch with a lot of the people I knew there, but darn geography got in the way and life kept rolling. I moved to Nebraska to attend school and then off to North Carolina I went. But since I've started this blog, I have had several great friends of mine reach out to let me know they were reading it and enjoyed it and you have no idea how much that means. No matter how often we talk, these people mean the world to me and I consider them true friends. So I think we need to get back in touch and maybe a NM trip is in my near future? Or you are all welcome to my little spot in North Carolina. Either way, my NM friends mean so much to me and I just wanted to let you know I was thinking about you and appreciate your support with this blog.
Now on to the delicious-ness...
We haven't had much of a winter here in North Carolina, but the past few days have been the closest we have gotten! So what did I do? I broke out the Hatch Green Chile Stew. Last fall as I was browsing our local grocery store I stopped in complete and utter shock when they stocked Hatch Green Chile. I have not seen this chile since I have left New Mexico (almost 7 years ago!) Now unlike New Mexico, there was not a nice man roasting the green chile outside in one of those huge tumbler things and the aroma made your mouth water, but I thought "hey, I can roast these myself." ha!
I bought a bunch of bags of chiles figuring I could roast them all and freeze them. I walked in the door and K said "what the heck are you bringing into this house?" Mr. picky eater will get over it.
It took me a few hours to take out the seeds, but it was worth it. I roasted half the batch in my oven, my apartment smelled like heaven. I remember playing soccer and being able to smell the exact same thing because of the fields not very far away. My oven was small and I was a little nervous I was going to burn down the place, so I made K help me roast the rest on the grill outside. This worked MUCH better for me. I chose to freeze the chiles with the skins on.
Fast forward to February, we had not touched the chiles yet. So freezing cold Sunday, with a little snow, was a perfect excuse! Because we have to have meat with every meal in this house (K's fault) I chose a beef stew recipe off my Epicurious App or aka My New Best Friend.
Brown the Stew Meat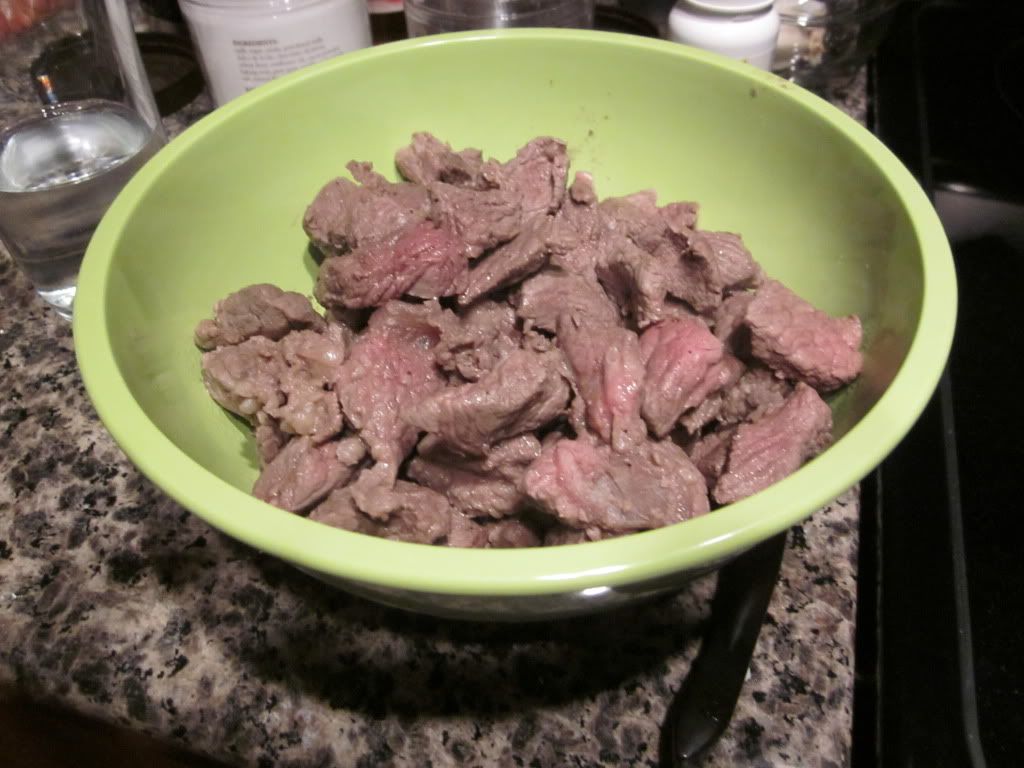 Cook the Onions and Garlic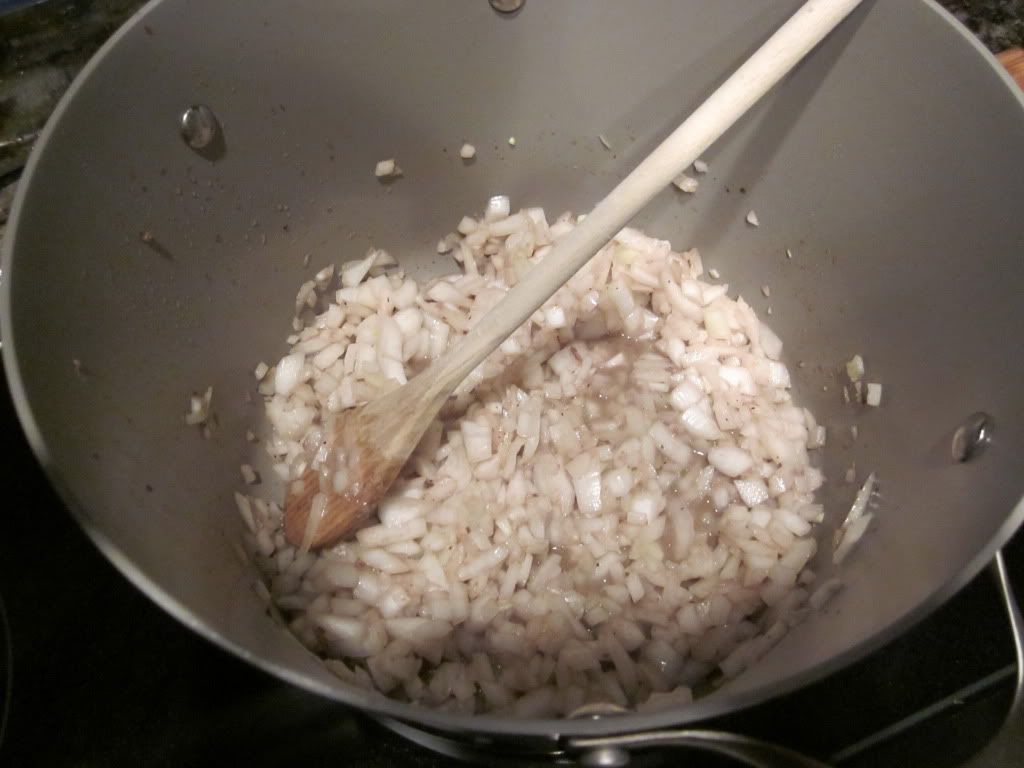 Peel and Chop the Chiles - very proud to say these skins slipped right off!
Add chiles and tomatoes and cook for a few minutes then add stew meat, add about 2.5 cups of water
After about three hours...this stew is getting nice and thick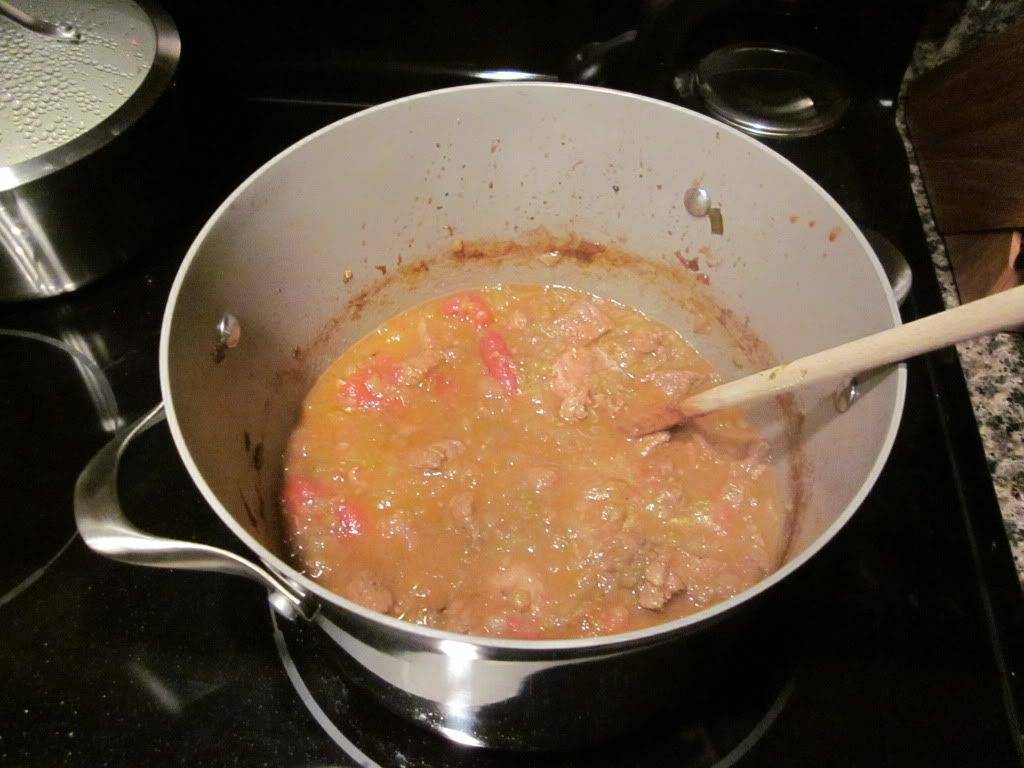 I chose to serve this over some instant white rice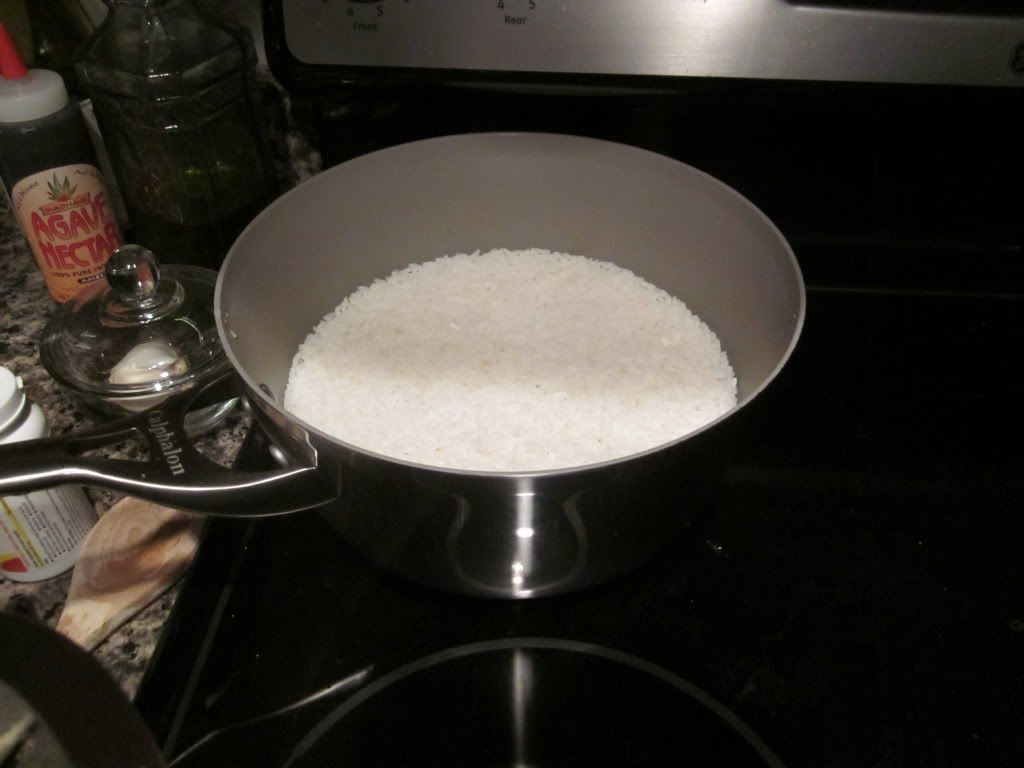 And eat up!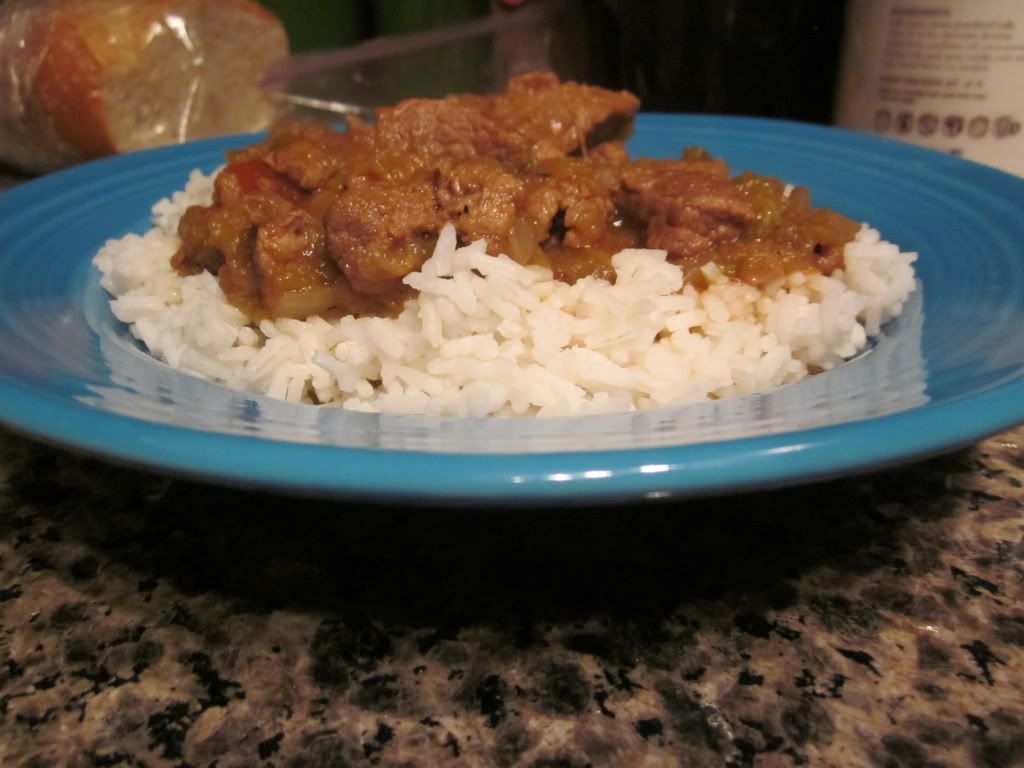 Now I had enough to feed a small army. Green Chile Stew for the next three days!