I recently went into serious closet organization mode. My previous philosophy was to fit as much as I could into my teeny tiny apartment closet. Wrong idea. Because my husband and I are in such a small space for the time being, I need to make this space as comfortable as possible. By barely finding certain items of clothing because they were crammed into my closet was not the solution.
I usually make small purges of my closet every season. Items that no longer fit, items that have been damaged or items that I have not touched in years. It is hard for me to get rid of stuff, so I usually only part with a few pieces. Well last week I had a reality check. I large chunk of my closet I have not touched since college and honestly I shouldn't have touched since college. Still, I couldn't part with some outfits. So, I picked up a few plastic bins, loaded up these "on the fence" pieces and they are now living in our storage center until I can suck it up and get rid of them. Easy solution for me.
So my tips for a small closet:
1. Purge what you haven't touched in years. I have so much more room to move around in this closet and I notice my favorite items much easier instead of fighting with all the "noise" of the pieces that do not work.
2. Use a mixture of hangers and folding baskets to organize different types of clothing.
I hang all of my tank tops, base pieces, blouses, pants, suits, skirts and dresses. I fold all sweaters and jeans. These fabric boxes from
Target
help me keep the folded items organized. I also use these bins as a keeper for purses and flat sandals.
3. Use whatever organization system that works for you. Color coordinating my closet isn't my number one priority. But I do like to have certain colors that I tend to wear frequently or have a lot of in one area. These are usually base pieces as well.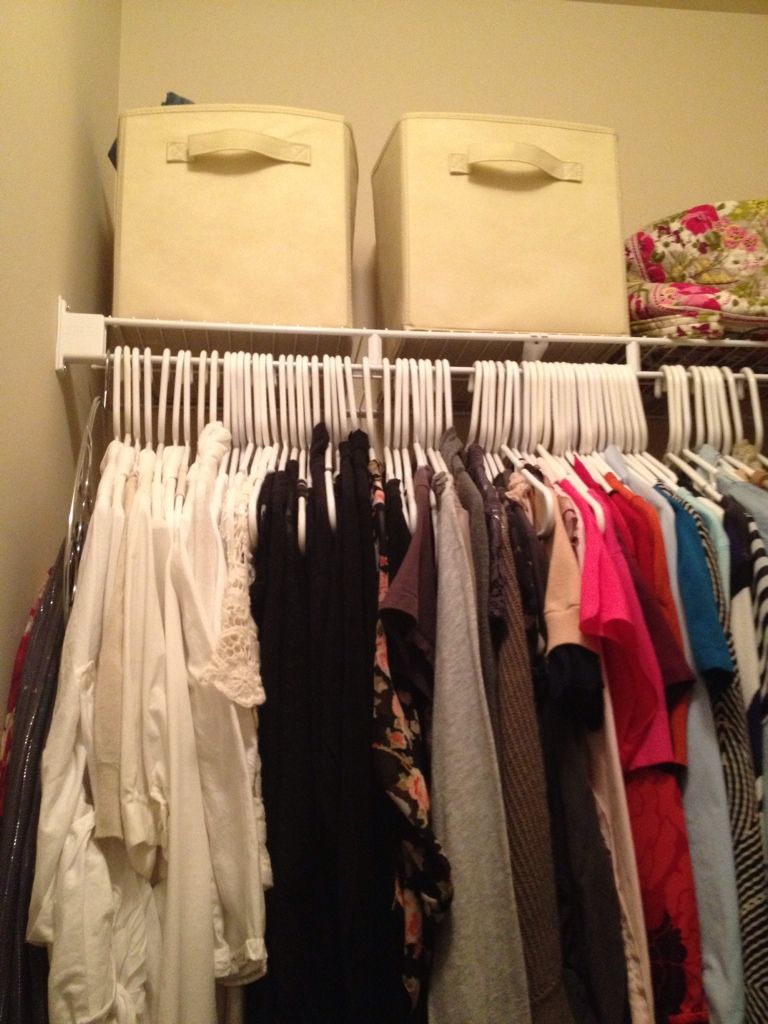 4. On your next trip to Bed, Bath and Beyond pick up fun and efficient closet organizers.
I have a scarf hanger, pant hanger and skirt hanger specifically designed for small spaces. They have been an extreme help when transitioning into this small space.
5. If you have tall closets, invest in a stool. This wooden stool is the best investment I made for my closet. Since we were trying to fit as much as we could into a small closet by adding in higher shelving and hanging space, this short girl needed a way to reach her stuff. It also helps when I am putting laundry away and I don't have to just toss it up into space hoping it lands where I want it to!
6. I love doing laundry, I hate putting it away. Yes I admit it! So I put into place my own system. When I dress in the mornings and remove a shirt or skirt from a hanger, I take that empty hanger and put it in the empty hanger space on a lower rung. So the next time I am hanging laundry, I don't have to take the extra five minutes searching for empty hangers. Time saved for me!
7. Have a spot for your shoes. As you can see I do not have any floor space for shoes. I do have boots set up in the back that are not in the picture, but I like to place all my shoes in a behind the door shoe rack. This is a huge space saver. I do have to keep a skinny storage bin under the bed with out of season shoes and trade them out when their season arrives. When I'm styling outfits, this tends to become my hanging rack as well! oops!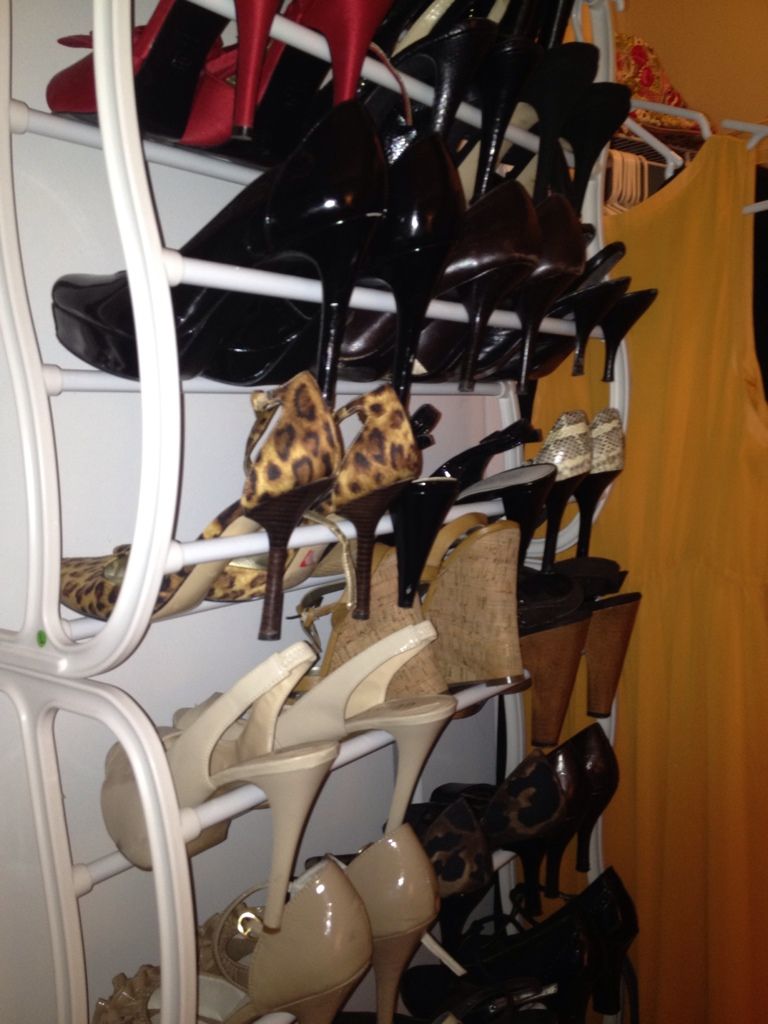 So living in a teeny tiny space isn't the most ideal situation, but it is definitely do-able. Learn to live with the space you have and make it the most efficient for you! Plus, if you moved because of your husband, like I did, you can always hold him to "alright, I'm living with a small closet because of you, so you can build me my dream one like Mr. Big in the near future" And then proceed to make him watch SATC the Movie as an example.